Oggi inauguro una nuova serie di post dedicati alle mie riletture. Ci sono romanzi che ti entrano nel cuore e, a volte, senti il bisogno di rileggerli per rivivere le emozioni che ti hanno dato. ho già avuto modo nei vari post di informarvi che Anne Stuart è da sempre una delle mie autrici preferite. Non mi vergogno a dirvi che stò collezionando tutti i suoi romanzi e, ormai me ne mancano pochi. Ultimamente li leggo con parsimonia per timore di restare senza. La serie "The House of Rohan" è una delle mie preferite in assoluto.
Titolo:
The Wicked House of Rohan
Editore:
Mira
Anno:
2010
Genere:
storico
Ambientazione:
Venezia, 1740
Prequel della serie
, ambientato alcuni anni prima. N.B. ora è a pagamento ma prima dell'uscita dei romanzi era gratuito sul sito di Amazon. Si tratta di 39 pagine in tutto.

Trama: Desperate, starving, Kathleen Strong makes her way to a job interview that promises a chance at proper employment...and maybe a bite to eat. Accused of "gross immorality," she's adrift after being dismissed from her governess position, despite being entirely innocent. That innocence is precisely what a mysterious group of debauched aristocrats finds so alluring about Miss Strong. When they propose a scandalous offer that she can't refuse...she can't refuse. But if the darkly gallant Alistair Rohan, a gentleman involved in all manner of wicked deeds himself, has anything to say about it, Kathleen can escape her disrepute in another way. Of course, the escape route looks very similar to the group's illicit proposition itself...


Disperata e affamata Kathleen Strong si presenta a un colloquio di lavoro che promette la possibilità di occupazione adeguata ... e magari di mangiare un boccone. Accusato di immoralità lei è alla deriva dopo essere stata licenziata dalla sua posizione come governante, pur essendo del tutto innocente. Questa innocenza è esattamente ciò che un misterioso gruppo di aristocratici debosciati trova così affascinante in Miss Strong. Quando le propongono un'offerta scandalosa che non si può rifiutare ... lei non può rifiutare. Ma se il cupo e affascinante Alistair Rohan, un gentiluomo coinvolto in ogni sorta di nefandezze, ha qualcosa da dire in proposito, Kathleen può cercare di sfuggire alla sua rovina in un altro modo. Naturalmente, la via di fuga è molto simile alla proposta illegale del gruppo stesso ...
Titolo:
Innocenza e Seduzione
Titolo originale:
Ruthless
Editore
: Harlequin-Mondadori
Anno:
2011
Primo romanzo della serie, protagonisti Francis Rohan e Elinor Harriman
Ambientazione:
Parigi
Trama: Few outsiders will ever witness the dark misdeeds of the Heavenly Host. And among this secret society, where exiled Georgian aristocrats gather to indulge their carnal desires, fewer still can match the insatiable appetite of their chief provocateur, the mysterious Viscount Rohan. Pursuit of physical pleasure is both his preferred pastime and his most pressing urge, until he encounters the fascination of a woman who won't be swayed. And while his dark seduction appalls the pure and impoverished Elinor Harriman, she finds herself intrigued...and secretly drawn to the man behind the desire.

Nella Parigi degli aristocratici inglesi in esilio, il misterioso Francis Alistair St. Claire Dominic Charles Edward Rohan, Visconte Rohan, organizza e ospita le scatenate riunioni dell'Esercito Celeste, un'associazione segreta i cui membri perseguono lo sfogo sfrenato delle passioni più proibite. La febbrile ricerca del piacere nasconde, in realtà, la profonda insoddisfazione di Rohan, e quando il caso e il bisogno portano l'ingenua e squattrinata Elinor Harriman a partecipare a una delle sue feste, lui la considera una novità insolita e benvenuta. Ma a poco a poco la fanciulla lo coinvolge oltre ogni aspettativa, facendogli scoprire passioni e desideri che entrambi credevano ormai perduti per sempre...
Titolo:
Giochi d'Amore
Titolo originale:
Reckless
Editore:
Harlequin-Mondadori
Anno:
2011
Secondo romanzo della serie
, protagonisti Adrian, figlio di Francis e Elinor, e Charlotte Spenser
Ambientazione:
Inghilterra, 1804
Trama:
Adrian Alistair Rohan lost his faith, and now, a dedicated member of the depraved Heavenly Host, he loses himself in his only pleasure: the seduction and debauchery of beautiful women. Rich, charming, and devastatingly skilled in the arts of love, he never fails in his conquests…until Charlotte Spenser.Charlotte is facing a desolate, passionless future, none of which matters to Adrian, who imagines her a toy until better prey arrives. But beneath her drab exterior, Charlotte is a woman as enchanting as she is brilliant, and, lured into Adrian's world, she soon becomes the seducer and he the seduced.
Ricco, affascinante ed esperto nelle più licenziose arti amatorie, Adrian Alistair Rohan ha seguito le orme del visconte suo padre affiliandosi all'Esercito Celeste, la dissoluta associazione segreta i cui membri si dedicano al piacere in tutte le sue forme. Da sempre fa strage di cuori tra le più avvenenti dame dell'alta società, finché incontra Charlotte Spenser, una scialba trentenne ormai rassegnata a un futuro desolato e senza passione. Nulla di tutto ciò pare infastidire il bellissimo gentiluomo, che immagina la fanciulla come un giocattolo sessuale con cui ingannare il tempo in attesa di prede più succulente. Ma sotto l'aspetto esteriore poco accattivante si nascondono in realtà un'intelligenza brillante, modi incantevoli e una sensualità che aspetta soltanto di essere risvegliata. E quando questo accade, di colpo i ruoli si invertono...
Titolo:
Il Bacio dello Scorpione
Titolo originale:
Breathless
Editore:
Harlequin-Mondadori
Anno:
2011
Terzo romanz
o, protagonisti Lucien De Malheur e Miranda Rohan, figlia di Adrien e Charlotte
Ambientazione:
Inghilterra, 1830
Trama:
Ruined beyond repair and shunned by London society, lovely Miranda Rohan rebelliously embraces the freedom that comes from having nothing left to lose. However, this dangerous course throws her under the power of the darkly enigmatic Lucien de Malheur—known to many as the Scorpion. Seeking to destroy the Rohans, Lucien traps Miranda in a marriage she thinks is based on friendship but instead is rooted in vengeance. Yet even when she realizes the truth, their enmity fuels a shocking passion—and perhaps even more. Such a man might drive anyone to murder….
Messa al bando dalla buona società, Miranda Rohan abbraccia con coraggio la libertà che deriva dal non avere più nulla da perdere e conduce un'esistenza riservata ma indipendente, senza curarsi delle convenzioni. La sua tranquilla esistenza prende però una piega alquanto pericolosa quando si ritrova in balia del cupo Lucien de Malheur, soprannominato lo Scorpione. Deciso a distruggere la famiglia Rohan, l'inquietante conte intrappola Miranda in un matrimonio che lei crede impostato sull'amicizia, ma che in realtà si fonda sulla vendetta. Quando l'amara verità viene a galla, la giovane donna si rivela un nemico implacabile e agguerrito, capace di tenere testa anche allo Scorpione. Eppure l'odio, inaspettatamente, innesca tra loro una passione folgorante. E forse anche dell'altro...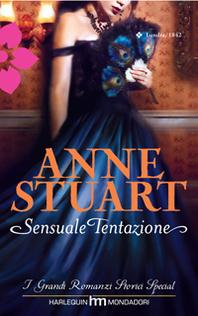 Titolo:
Sensuale Tentazione
Titolo originale:
Shameless
Editore
: Harlequin-Mondadori
Anno:
2012
Quarto romanzo
, protagonisti Benedick Rohan, fratello di Miranda, e Melisande Carstairs
Ambientazione:
Londra, 1842
Trama: A long string of tragic loves haunts Viscount Benedick Francis Alistair Rohan. Cool and cynical, he's weary of life's fickle games and wants a prim and proper wife he can ignore while indulging his sensual appetites. Lady Melisande Carstairs is nothing less than a tornado storming into Benedick's measured life. Possessed of boundless energy and the soul of a reformer, Melisande always conquers, whether it's saving the souls of soiled doves or seducing the man she's inconveniently fallen for. When she informs Benedick that his brother's newly revived Heavenly Host has graduated from simple carnal debauchery to sadistic violence, he's compelled to investigate, undercover. Under those covers, however, is Melisande herself, playing a dangerous game in the name of justice. And the Heavenly Host has just seen her hand, and more…


La vita di Benedick Francis Alistair, VI Visconte di Rohan, è costellata di amori finiti che l'hanno reso un uomo cinico e freddo. E quando torna a Londra lo fa con un obiettivo ben preciso: trovare una moglie seria e senza pretese, che gli dia un erede e soprattutto che non lo infastidisca se lui sfoga altrove i suoi appetiti sessuali. Poi Lady Melisande Carstairs irrompe nella sua vita pretendendo che la aiuti a sventare i progetti scellerati dell'Esercito Celeste. Dotata di un'energia incontenibile e di un corpo morbido e sensuale che accende la sua fantasia, non è esattamente il genere di donna che Benedick aveva in mente, eppure esercita su di lui un'attrazione incontenibile. E così pericolosa da indurlo a troncare ogni rapporto. Melisande però è abituata a vincere: che si tratti di salvare donne maltrattate o di sedurre l'uomo di cui si è sconsideratamente innamorata...

Il prequel della serie è un breve ma "succoso" antipasto di ciò che accadrà poi nei vari romanzi. Non è indispensabile però per capire o per apprezzare la storia. Tutti e quattro i romanzi hanno come filo conduttore i componenti della famiglia Rohan, attraverso tre generazioni. Altro filo conduttore è la società segreta chiamata "Esercito Celeste" dedita hai piaceri estremi e, alla fine, anche a nefandezze e violenze. Gli uomini della famiglia Rohan (ma anche Lucien) sono Bad-Boys allo stato puro che vengono salvati in più di un modo dalle donne di cui si innamorano. Se devo fare una classifica di gradimento metto sicuramente in cima "Il Bacio dello Scorpione" seguito da "Innocenza e Seduzione" e terzi classificati a pari merito "Sensuale Tentazione" e "Giochi d'Amore". Perchè mi piacciono? Perchè Anne è una maestra nel creare tensione emotiva e sessuale tra i suoi protagonisti. Non riesci a smettere di leggere, devi assolutamente sapere cosa accadrà. E poi, ormai lo sapete non sò resistere ai suoi Bad-Boys!!!!! Il quarto romanzo lascia aperte le porte per un quinto con protagonista il fratello di Miranda e Benedick...speriamo presto!