It's no surprise that Julie Garwood became a writer. Growing up in a large family of Irish heritage, she took to storytelling naturally. "The Irish relish getting all the details of every situation," she explains. "Add in the fact that I was the sixth of seven children. Early in life I learned that self-expression had to be forceful, imaginative, and quick." Creating stories was always a passion for Julie, but she didn't focus on making it a career until the youngest of her three children entered school. After the publications of two young adult books, she turned her interests to historical fiction. Her first novel, GENTLE WARRIOR, was published in 1985, and there has been a steady parade of bestsellers ever since. Today more than 35 million copies of her books are in print, and they are translated in dozens of languages around the world. One of her most popular novels, FOR THE ROSES, was adapted for a HALLMARK HALL OF FAME production on CBS. Whether the setting be medieval Scotland, Regency England, frontier Montana, or modern-day Louisiana, her themes are consistent: family, loyalty, and honor. Readers claim that it's the humor as well as poignancy of her novels that keep them coming back for more. Julie described her goals this way: "I want my readers to laugh and cry and fall in love. Basically, I want them to escape into another world for a little while and afterwards to feel as though they've been on a great adventure." Julie lives in Leawood, Kansas, and is currently working on her next novel.
(Fonte www.juliegarwood.com)
Non deve sorprendere che Julie Garwood sia diventata una scrittrice.
Cresciuta in una famiglia di origini irlandesi, ha iniziato a narrare storie in maniera naturale.
"Il gusto irlandese di raccontare tutti i dettagli in ogni situazione", spiega.
"Aggiungete il fatto che io ero la sesta di sette figli. Ho imparato presto ad esprimermi in maniera forte, fantasiosa e veloce."
Creare storie è sempre stata una passione per Julie, ma lei non si è concentrata nel farne una carriera fino a quando il più piccolo dei suoi tre figli ha iniziato la scuola.
Dopo la pubblicazione di due libri per giovani adulti, ha rivolto il suo interesse verso gli storici.
Il suo primo romanzo, "Gentle Warrior", è stato pubblicato nel 1985, e, da allora, c'è stata una produzione costante di bestsellers.
Ad oggi sono state stampate più di 35 milioni di copie dei suoi libri, e sono stati tradotti in decine di lingue in tutto il mondo.
Uno dei suoi romanzi più famosi, "For The Roses" è stato adattato in una produzione per la CBS.
Le ambientazioni sono varie (la Scozia medievale, l'Inghilterra regency, la frontiera del Montana o la moderna Louisiana) ma i suoi temi sono costanti: la famiglia, la lealtà e l'onore.
I lettori sostengono che l' umorismo e l'intensità dei suoi romanzi sono ciò che li fa amare di più.
Julie ha descritto i suoi obiettivi in questo modo: "Voglio che i miei lettori ridano, piangano e si innamorino. In sostanza, voglio permettere loro di fuggire in un altro mondo per un po', in modo che dopo si sentano come se avessero vissuto una grande avventura...
"
Julie vive a Leawood, Kansas, e sta attualmente lavorando al suo prossimo romanzo.
Bibliografia:
HOT SHOT
SWEET TALK
THE IDEAL MAN
SIZZLE
FIRE AND ICE
SHADOW MUSIC
SHADOW DANCE
SLOW BURN
MURDER LIST
KILLJOY
MERCY - Il Patto
HEARTBREAKER - La Confessione
RANSOM - Indomita Attrazione
COME THE SPRING
THE CLAYBORNE BRIDES

THE WEDDING - Nel Castello di Connor

FOR THE ROSES
PRINCE CHARMING - Resto con Te
SAVING GRACE - La Signora dei Clan

CASTLES - Spirito Ribelle

THE SECRET - Tu e Nessun'Altra

THE PRIZE - Matrimonio Normanno

THE GIFT - La Dote di Sara

GUARDIAN ANGEL - Il Pirata Gentiluomo

THE BRIDE - La Dama delle Nebbie

THE LION'S LADY - Padrona del Suo Cuore

HONOR'S SPLENDOUR - Una Sensuale vendetta

REBELLIOUS DESIRE- Desiderio Ribelle
GENTLE WARRIOR - La Sposa Ribelle
Young Adult:
A GIRL NAMED SUMMER
Ho segnato in un colore diverso i miei romanzi preferiti!!!
Serie:
Contemporary: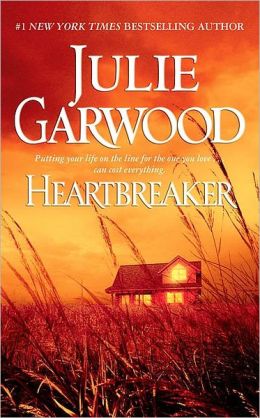 HEARTBREAKER - La Confessione
MERCY - Il Patto
KILLJOY
MURDER LIST
SLOW BURN
SHADOW DANCE
FIRE AND ICE
SIZZLE
THE IDEAL MAN
SWEET TALK
HOT SHOT
Medieval:
"The Highlands' Lairds":
THE SECRET - Tu e Nessun'Altra
RANSOM - Indomita Attrazione
SHADOW MUSIC
"Lairds' Fiances":
THE BRIDE - La Dama delle Nebbie
THE WEDDING - Nel Castello di Connor
Regency:
"Pagan":
THE LION'S LADY - Padrona del Suo Cuore
GUARDIAN ANGEL - Il Pirata Gentiluomo
THE GIFT - La Dote di Sara
CASTLES - Spirito Ribelle
Western:
FOR THE ROSES
THE CLAYBORNE BRIDES
COME THE SPRING
Mi sono resa conto che, fin'ora, avevo dedicato pochissimo spazio a quella che è una delle mie autrici preferite, ed ho deciso di porre rimedio alla cosa! Questa scrittrice mi è sempre piaciuta per le sue storie romantiche e divertenti, per i suoi eroi rudi ma dolcissimi e per le sue eroine simpatiche e un pò svampite. Leggere i suoi romanzi è come bere una tazza di cioccolata davanti ad un bel fuoco acceso: ti scalda il cuore e ti riempie di dolcezza! Mi sono anche accorta di non aver letto ancora nulla della sua produzione nel contemporaneo... dovrò provvedere al più presto!
Conoscete questa autrice? Quali sono i vostri romanzi preferiti della Garwood? L'avete letta anche nel contemporaneo?