Oggi voglio segnalarvi due novità interessanti: la prima è un'opera di uno scrittore italiano, la seconda è un'antologia con uno scopo benefico.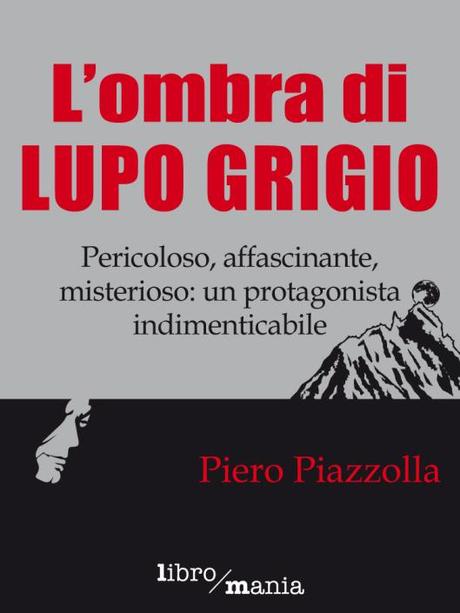 Titolo:
L'Ombra del Lupo Grigio
Autore:
Piero Piazzolla
Editore:
Libromania
Anno:
2014
Pagine:
201
Genere:
Mystery, Thriller
Trama:
Il giornalista Peter Larsten è ossessionato dai ricordi. Non riesce a liberarsi dell'immagine oscura di Thomas Cornwell, "Lupo grigio" come era chiamato dagli abitanti di Absarokee quando Peter era solo un bambino. Per far luce sul mistero di quel personaggio, attorno al quale si era concentrata una curiosità sinistra e morbosa, Peter decide di mettersi sulle tracce di Lupo grigio, inspiegabilmente ritiratosi sulle montagne anni prima. Durante la ricerca, riesce a trovare il suo diario, una scoperta che cambierà per sempre la vita di Peter, finalmente in grado di affrontare i propri fantasmi e mostrare al mondo il vero volto di un uomo che per anni ha vissuto come il macabro portatore di una cupa leggenda!
Titolo:
Grand Adventures
Editore:
Dreamspinner Press
Anno:
2014
Pagine:
320
Descrizione:
On September 1, 2011, TJ Klune wrote, "... it's not about the ending, it's about the journey..." in a review of Eric Arvin's Woke Up in a Strange Place. With those words, two men began a journey of love and invited us to ride along. TJ and Eric have shared so much with us: their wonderful books, their smiles, their humor, their lives, and their inspiring devotion to each other. In December of 2013, their journey took a detour when Eric was taken to the emergency room. He survived the surgery to remove a cavernous hemangioma from his brain stem, but the challenges TJ and Eric face are far from over.
The authors in this anthology donated their talent as a way to support Eric's continued recovery, to help bring strength to TJ, and to show both of them just how much love surrounds them. Grand Adventures is a diverse range of stories about the journey of love. We're going on some grand adventures for a great cause. Thank you for joining us.
One hundred percent of the income from this volume goes directly to TJ and Eric
.
Il 1° settembre 2011, TJ Klune ha scritto, " ... non conta la fine, si tratta del viaggio..." nella recensione di "Woke Up in a Strange Place"
di Eric Arvin

.
Con queste parole, due uomini hanno cominciato un cammino d'amore e ci hanno invitato a seguirli.
TJ e Eric hanno condiviso tanto con noi: i loro libri meravigliosi, il loro sorriso, il loro umorismo, la loro vita e la loro devozione l'uno per l'altro.
Nel dicembre del 2013, il viaggio ha preso una deviazione quando Eric è stato portato al pronto soccorso.
E' sopravvissuto all'intervento chirurgico per rimuovere un emangioma cavernoso del tronco cerebrale, ma le sfide per TJ e Eric sono ben lungi dall'essere finite.
Gli autori di questa antologia hanno donato il loro talento per supportare la continua ripresa di Eric, per contribuire a portare forza a TJ, e per mostrare ad entrambi quanto amore li circonda.
Grande Adventures è una vasta gamma di storie sul viaggio dell'amore.
Stiamo affrontando alcune grandi avventure per una grande causa.
Grazie per averci seguito.
Il cento per cento del ricavato di questo volume va direttamente a TJ e Eric.
E' un'antolgia che contiene i seguenti racconti:
Foreword
by S.A. McAuley
An Unexpected Thing
by John Amory
The Twinkie Ignition
by J.E. Birk
When Friendship Becomes More
by Sophie Bonaste
Isle of Waiting
by Sue Brown
The Jogger
by KC Burn
Holding Court
by Cardeno C.
For Dear Life
by Mary Calmes
Under the Full Moon
by Ellis Carrington
Stripped
by Shae Connor (
2nd Edition
)
That Place Across the Hall
by C.C. Dado
Mistaken MD
by Phoenix Emrys
Cops and Comix
by Rhys Ford
Last First Kiss
by LE Franks
Tomorrow
by John Goode
From Fantasy to Friends
by CR Guiliano
Witness Protected
by Dawn Kimberly Johnson
Water Under the Bridge
by Mia Kerick
A Gentle Shove of Human Kindness
by Amy Lane
Air (Roads #1.75 million)
by Garrett Leigh
An Atheist and a Yoga Instructor Walk into a Bar
by Rowan McAllister
Stalking 101
by Moria McCain
Simple Desires
by Tempeste O'Riley
Object of Care
by Zahra Owens
Kid Confusion
by Madison Parker
Fall Train
by Jaime Samms
The Exhibition
by Andrea Speed
What You Will
by Tinnean
Prologue
by Brandon Witt
Come avete potuto leggere nella descrizione si tratta di un'opera che gli amici di TJ ed Eric hanno scritto per sostenerli in un momento veramente difficile. Chi mi segue già da un pò sa che amo molto i lavori di TJ Klune; conoscendolo sui vari social ho avuto modo di scoprire che è anche una splendida persona. L'amore che lo lega al suo futuro marito Eric ha dovuto sostenere prove difficilissime da quando Eric è stato ricoverato in ospedale e poi operato. Fin da subito i medici non si erano detti ottimisti sulla situzione ma contro ogni aspettativa Eric si stà riprendendo, è uscito dall'ospedale e stà affrontando una lunga e difficile riabilitazione. Quest'opera è per mostrargli l'affetto che li circonda ma anche per aiutarli nel loro difficile cammino.